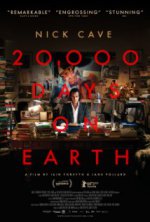 At the end of Jane Pollard and Iain Forsyth 20,000 Days on Earth Nick Cave is on the beach and describes his world as small shimmering gap in which imagination and reality merge. A statement that not only meeting the operation of the Australian musician, but also the style of the documentary reflects which manages many places one feature film comes very close and with surprisingly little archive material.
In her directorial debut, the artist Pollard and Forsyth accompany the musicians Cave at its 20 000th Day on Earth – from the alarm clock ringing in the morning to the aforementioned beach walk at night. Editorial images take turns with staged scenes from where Cave reveals something about his life, especially about his work, be it in the dialogue with the psychiatrist or in imaginary conversations with old companions while driving.
The viewer is thus primarily insight into Caves inner life, in his philosophy, his fears, in what other him on and off the stage for more than 30 years and haunts. Almost casually makes 20,000 Days on Earth also from the creative process of writing a song about the shooting to performance.
It is increasingly clear: What matters Cave, is the transformation. That everyone wants to be at some point in their life, another whose the Australians is safe. He is every evening for awkward version of all his heroes and monsters, if he passes through the shimmering gap. How well this actually works, leads 20,000 Days on Earth in mind. Cave as a large transformer.